VoIP software has been actively spreading around the world for some time. In addition, this technology has improved considerably over time. The Voice over Internet Protocol (VoIP), which is an excellent development of the plain old telephone service (POTS) that has only basic calling features, has also been a lifesaver for call centers around the world.
The most important reason why VoIP phone has gained so much success in their use is that they can integrate with a wide range of tools. VoIP CRM integration has been a reason for businesses to move from plain POTS to VoIP.
What is VoIP CRM integration?
VoIP CRM integration is a link between two business applications. The integration helps you avoid wasting time in finding information and manually dialing numbers, among other features. It allows you to exchange data between two apps with ease. In general, to make the life of your call center representatives easier, you feed the data from your CRM database to your VoIP tool.
How Does a VoIP CRM Integration Work?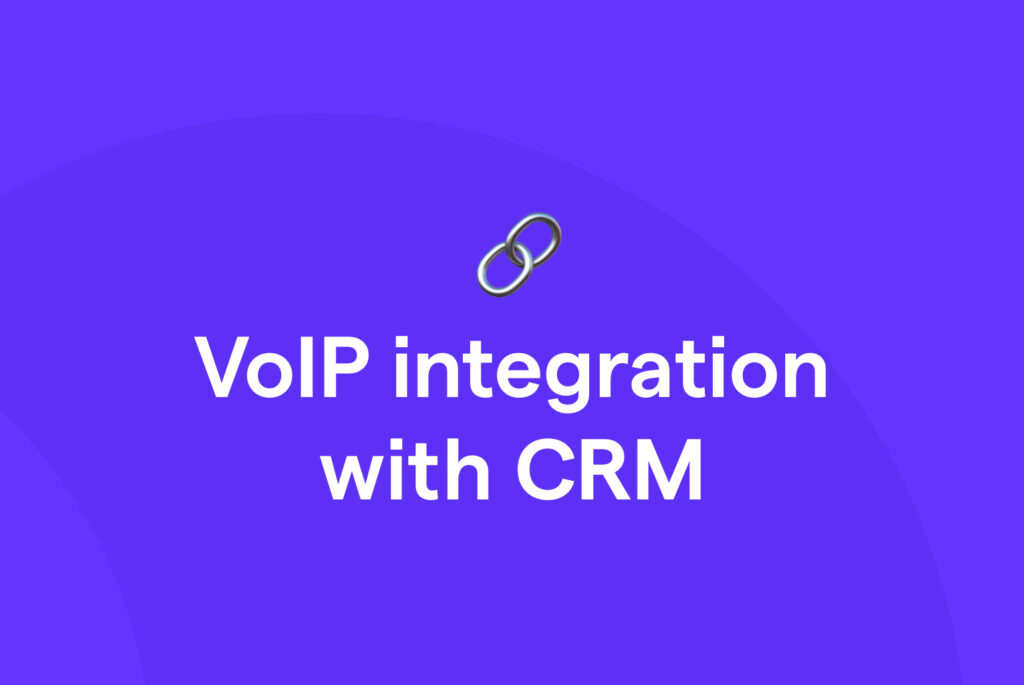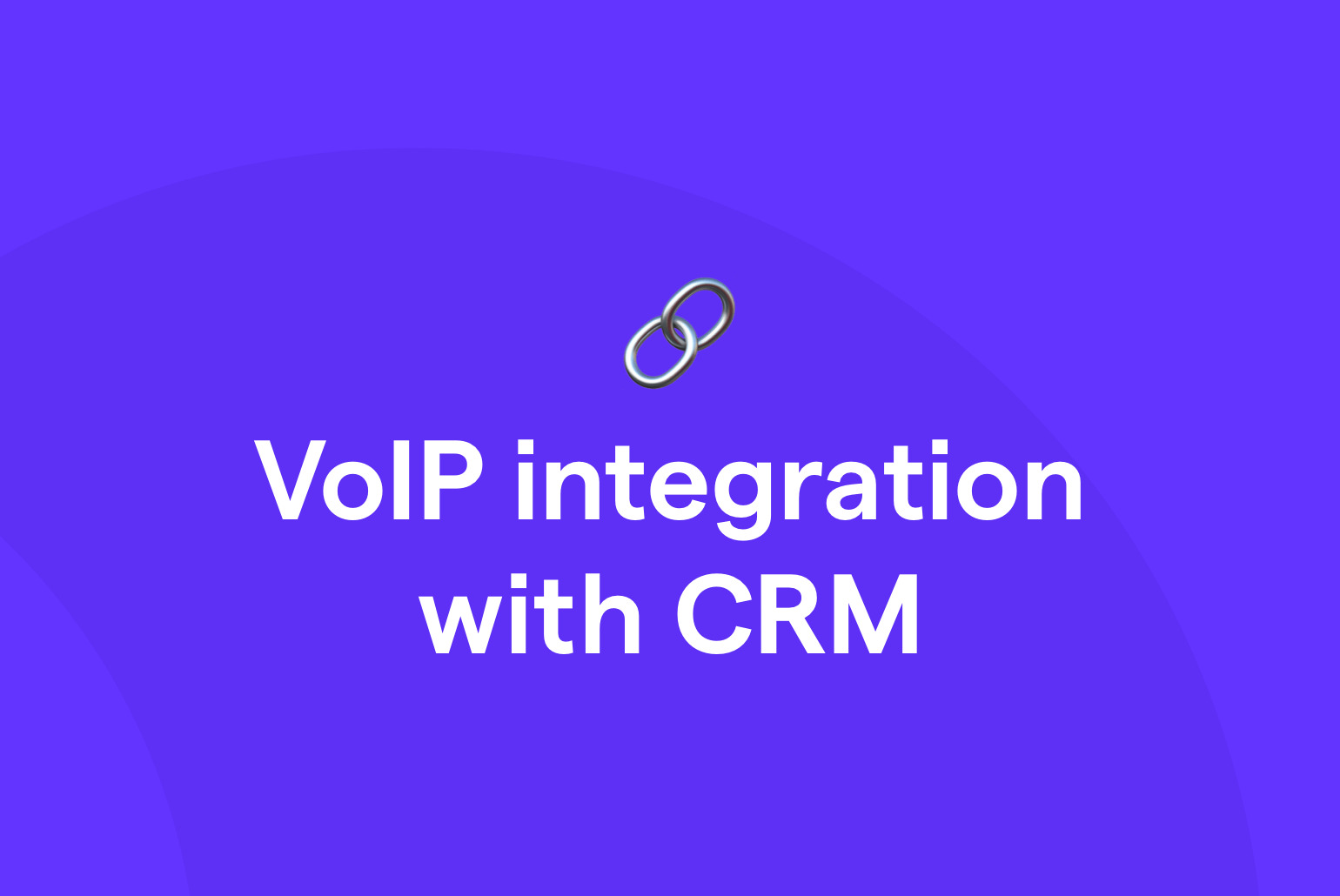 For people who are just starting, you need to have an active subscription to at least two tools. Your VoIP contact center tool (VoIPinger) and your preferred CRM integration. Before choosing any VoIP solution, you also need to make sure that the CRM you use is on the integration list.
In the simplest terms, CRM integrations are preferred for storing customer data while VoIP software is used to make calls. By combining both uses, it is now easier to manage customer calls. Thanks to these integrations, you start to become much more productive.
The list of things you can do with the merger of two tools is almost endless. However, we have listed some basic information that you should know. These:
• You can synchronize data in both ways
• Easily access call records through your CRM
• Search directly from your CRM with an embedded search widget
• When your customer representative calls, you can see the caller information on your screen
• Go to the customer's profile in your CRM and make a one-click call without manually dialing
• Sync your SMS campaigns through your CRM
• Get call center statistics in your CRM
• Create workflow automation
When using Business VoIP Phone System, it is also possible to benefit from CRM integrations.
The Main Benefits Of Using a VoIP CRM Integration
If you take a quick look at the possibilities mentioned above, you will see that these tools can be incredibly powerful with their combinations. Your specific benefits will depend on several factors. But keeping these in mind is one of the most important factors.
Saves Time And Money
Agents love VoIP CRM integrations. The main reason for this is that they do not spend hours getting information when using CRM tools. When a new call comes in, they instantly see all the information about the customer in question.
If they need to make an outgoing call, simply go to the CRM control panel and click on the recipient's number to dial it instead of calling. They can use the same to send a follow-up email or SMS.
In your CRM, you can create phone number lists for your agents to call. If the customer does not respond to it, the VoIP tool switches to the next number in the queue. This is only a few seconds. But it can also be a huge time saver for someone who makes hundreds of calls a week.
It Makes Your Agents Happier
Many people don't want to perform repetitive and time-consuming tasks constantly. Imagine that if you dialed 100 numbers during the day, you had to open a page in an Excel file and then copy and paste the number into your VoIP tool for each one. This is quite time-consuming. At this point, it's important to use something that can easily automate these tasks that take up a large part of your day.
Data entry is one of the most common reasons why sales reps don't like their jobs. Because these processes are quite tedious and need manual labor that can be easily automated. Therefore, buying VoIP CRM integration will create a happier working environment for you.
Improves Accuracy
Copying and pasting data between apps isn't just time-consuming. It also leaves a lot of room for human error. With dozens of calls also required during each shift, your agents may also accidentally enter incorrect data. This can cost a potential customer. However, using a CRM integration automatically pulls data between apps. In this way, your representatives continue their sales-oriented business instead of making sure that they do not miss a number in the CRM profile.
Increases Customer Satisfaction
Companies that invest in personalization grow 40% faster than those that don't. Their customers are probably aware that you are serving thousands of people other than themselves. Still, they want you to approach their situation with special care, no matter what. If you start personalizing each touchpoint, you'll also show that you care about owning your customers' business.
VoIP CRM integration helps you access all the data about the customer before each call. Make an outgoing call or receive an incoming call. It reflects all previous customer interactions with you. You can see them all, including calls, emails, messages, agent notes, and more.
Even if the representative in charge has never spoken to the customer before, they will have more information to take a personalized approach and get your customers off their feet as well.
Improves Productivity
With VoIP CRM integration, your agents don't have to constantly switch back and forth between two different applications. While it only takes a few seconds each time, all it takes to sneak into different sites once in a while is a few clicks. You can easily save hours each month without such distractions.
Another positive aspect is that your agents can access customer data from any device at any time. In general, CRM offers the advantage of taking the data about the call to their mobile phones instead of going to the laptop they use and answering them instantly.
Finally, agents spend less time catching up with each other. When a new call comes in, the agent managing it instantly knows all their previous interactions with the customer. So, you don't have to reach out to another representative to get more information.
Makes Full Use of SMS
Integrating SMS into your call center campaigns can be complicated, especially if you have the wrong combination of CRM and VoIP tools. With a suitable VoIP CRM integration, you can continue your phone call via SMS.
For example, if it doesn't answer a call from a customer representative, the VoIP tool can get the phone number of the customer representative. So, you can automatically send an SMS asking for a better call time.
If the search goes well in a different situation, it may be useful to send an SMS with a link to book a demo for your product immediately after the integration.