Have you ever wondered what is a hosted phone service? Or how to use a hosted phone systems? We will talk all about hosted telephone systems and answer any questions you might wonder.
Let's begin!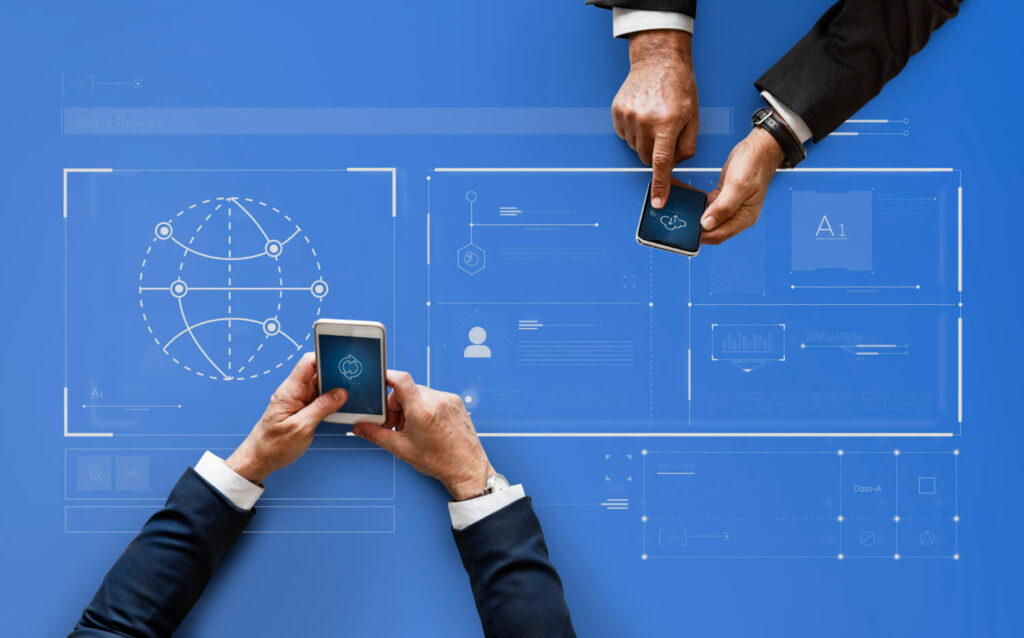 What is a hosted phone system?
Hosted phone service which is also known as a cloud phone system has a way of working via an internet connection and data is hosted in the cloud by third-party vendors. They generally are used for business. We might encounter these devices with various names such as hosted phone systems, cloud phone system, and hosted telephone system…
Whether we compared this high-tech hosted phone service with the traditional ones that we are all familiar with, hosted phone systems help businesses to save money on maintenance and equipment cost instead of landlines which requires the necessity of having their own server and equipment onsite.
Hosted telephone systems are divided into two, which are:
Cloud-hosted phone service: All phones are connected to a VoIP data center. You need to have an individual login. This type of technology comes with many benefits such as voice mail to email, auto attendants, and video conferencing…

PBX SIP trunking: In this type, you will keep your existing PBX but the backhaul is completed via VoIP trunks. In this way, you can reroute the calls to any phone number or any office.
How does a hosted VoIP solution work?
The working logic of the hosted phone service is that a phone hosted with a cloud PBX answers calls. Here, this online server uses a VoIP connection and handles incoming and outgoing calls with a SIP trunk.
The steps are as follows:
Your business finds a hosted phone service with a cloud PBX service, and then you connect to offsite data centers.

You receive an incoming call to your hosted PBX system.

The hosted PBX system converts this call data into digital data that can be transmitted and uses the internet for this. This is the VoIP of your hosted phone systems.

The PBX forwards the incoming call to your office or the number you choose.

Your phone will ring. Here, the digital packets are converted back into voice messages and a connection is established. The PBX acts as an intermediary here. You can now contact the person calling you via it.
You can receive calls with a service with a full cloud phone system and a device with a stable internet connection. Your mobile phone, laptop, desktop, and landline will keep your business data with you at all times.
6 Advantages of a hosted phone system
There are six advantages of hosted telephone systems you might would like to check:
1. Easy installation
We are familiar with the installation process of a traditional telephone system. Tariff research is a long, complex and expensive process resulting from several phone calls. However, the hosted telephone system does not have any of these problems.
Installing a cloud-based system requires an online process, so you don't need anyone to come to your office to start using it. This makes the cloud-based system less expensive than the regular phone system as there will be no extra setup. Additionally, this is great for remote teams.
2. Cost savings
Hosted systems are cheaper than conventional phone systems with two features.
The first of these features is that you do not need to buy and carry new equipment. You can use your already owned devices with internet access with a cloud phone subscription.
The second feature is that a cloud-based business phone is much more cost-effective to maintain. When you have a problem with your hosted system, you don't need to ask an engineer to come to the office and fix the problem. Your IT staff will be equipped to fix the most common VoIP problems without contacting your service provider.
3. It's a unified communications platform
Unified communication platforms allow you to communicate both internally and externally with a single tool. Hosted phone services are like that.
Thus, your workplace teams can handle all their strategies through the VoIP solution they host. The right provider offers other features besides the ability to make calls. You can send text messages, organize conferences, send and receive videos over cloud phone systems.
4. Flexibility for remote teams
With the effect of the pandemic, many businesses have started to adopt either hybrid or completely remote working system. So whether you're on a business trip overseas, working from a summer residence or working from home, it doesn't matter. You can accept all calls with hosted phone systems. You don't need your wired desk phone in the office to transfer the line to you and answer incoming calls.
This is because almost all hosted phone systems providers have remote work capability. This is how their software is set up. Your remote team can download work phone software to their devices. This provider establishes the connection and forwards incoming and outgoing calls to your device.
5. Better scalability
As your business grows, you need to have a phone system with various features that grows with you. When a new member is added to your team, reinstalling your traditional phone system from scratch is not only frustrating but also expensive.
That's why one of the biggest advantages of having a hosted phone service is scalability. When a new member joins your team, all you have to do is sign in to your provider's cloud platform and recruit them.
6. It's more secure
It's not brand new information that businesses are anxious about the security of their systems. Because a data breach can cost 3.92$ on average. There is a term called social engineering, and it's one of the most common data breach types. These hackers can imitate your providers and reach your data. Thus, the data can be used to hand over to the system.
However, hosted phone services have extra protection against data theft and social engineering. Do you know the best part? Most VoIP providers (especially the pioneer ones) have powerful identity management tools. So, you cannot be fooled by these hackers.
The disadvantages of a hosted phone system
We mentioned that a hosted phone service has many advantages. However, every system has its drawbacks. On the other hand, these disadvantages are very few indeed!
The biggest feature you should consider for VoIP systems is a strong and stable internet connection. Even if we assume that we do almost all our work on the internet these days, almost all of us already have strong and fast internet access.
On the other hand, if you are on a remote team, your team should likewise have a strong and stable internet connection.
VoIP calls require at least 100 kbps of upload and download bandwidth per line.
Typically, service providers offer gigabit speeds (1000 Mbps) for business subscribers. For a small business, a single DSL or fiber connection will be more than enough.
The biggest disadvantage of hosted VoIP, on the other hand, is that it doesn't have the always-on nature of traditional phones. In other words, these phone systems require both internet network structure and power.
Hosted phone system features to look for
Here are some advanced features to look for when choosing a VoIP service provider. These features will vary depending on some useful features your business is looking for.
1) Voicemail to email transcription
Receiving and sending voice messages is, of course, the most important feature of your system. Otherwise, you don't want to risk missing calls and losing potential customers.
On the other hand, you can have your voicemails decoded and sent directly to your inbox. This means that you do not need to listen to the message to reply to these messages. You can record what the incoming call is about just by listening to the voicemail transcription.
2) Video conferencing features
Workplaces have adopted remote working more than ever, especially after the pandemic. This is one of the most useful features of hosted phone systems providers that offer video conferencing.
On the other hand, check if this feature is included in the package you have chosen.
3) Security and reliability
The reliability of hosted phone services is a concern for many businesses that are just adopting cloud technology. However, this fear has no validity. VoIP connections are more secure than traditional wired phone systems.
The key here is to choose a reliable VoIP network. On a secure network, it's nearly impossible for someone to disconnect you and eavesdrop on your phone calls.
4) Call recording
Keeping a log of calls can help you track customer interactions. In this way, you can determine the fees that sales representatives receive per registration.
5) Real-time call analytics
If you ask most businesses how effective their teams are, they probably won't know the answer. Traditional phone systems keep a log of incoming and outgoing calls for a while, and that's all they can do. No additional statistical data is available.
However, some hosted phone services offer real-time call analytics. This allows you to monitor the following data:
Incoming calls

Total calls

Answered calls

Missed calls

Free calls

Internal/external calls

talk time

International calls

Voicemail calls

Next calls
6) Auto attendants
You don't need an extra employee to forward and manage calls when your hosted phone service provider offers automated carriers. This automatic message actually works like artificial intelligence, asking what the caller needs help with and forwarding it to the most relevant person. There is no direct guidance or one-to-one communication between them.
Also known as Interactive Voice Response (IVR), this call-forwarding system saves time for everyone on your team. You can set the rules for the system online. So, if someone calls and their request matches your specific referral, you can transfer it to the relevant department with a click of a button.
7) Superb call quality
A common concern for businesses migrating to a VoIP-based phone system is whether the call quality is good. These businesses often assume that quality will suffer due to a non-wired connection and the possibility of an unstable internet.
However, this is not a correct assumption. In fact, cloud-based VoIP phones are much clearer than traditional phone lines. While you need a good internet connection with at least 100 Kbps, most ISPs give you at least 10 Mb. This indicates that you are able to make and receive high-quality calls even if you are making international calls.
Make the Switch to a Hosted Phone System
There is no doubt that a hosted phone service will be the communication system of the future. Copper wires forming labyrinths around your office are like booby traps! This is technology dominated by cables that need to be replaced every few months and is replaced by a hosted phone service.
However, be sure to check if the new hosted phone service offers the advanced features you need.
Typically hosted phone service pricing starts at just $20.95 per user per month.