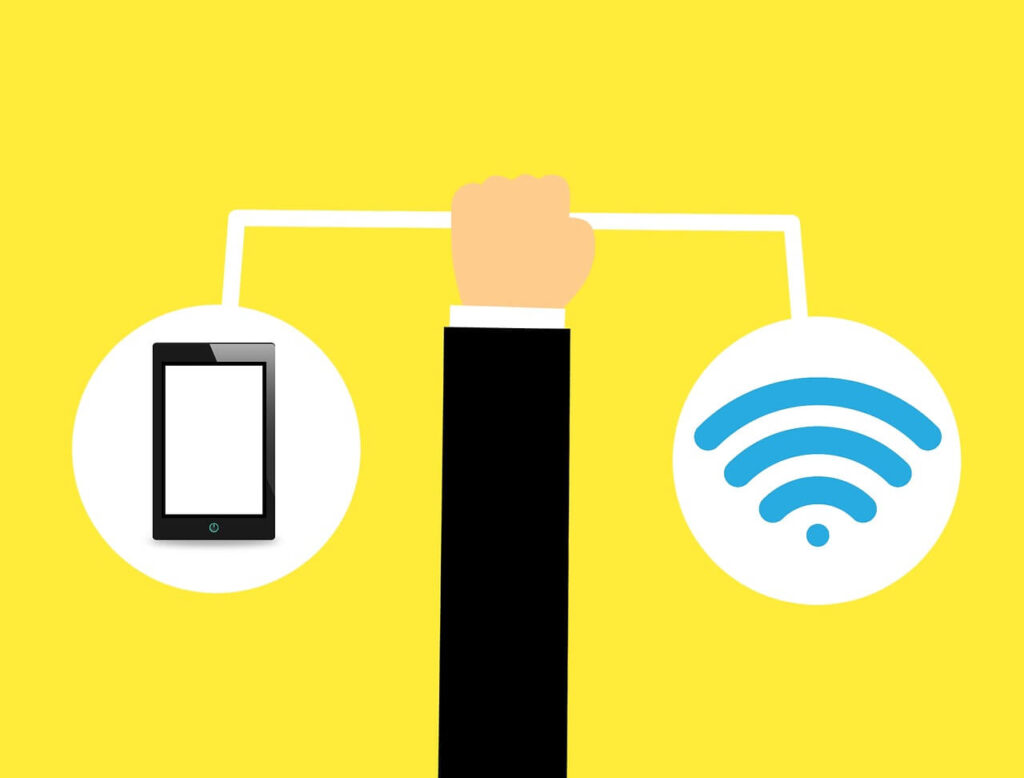 If you're looking for an easy way to keep in touch with friends and family, this option is a great option. So, let's get started on what Wifi calling really is and understand the process.
What is WiFi Calling?
Wifi calling is a feature that allows you to use your mobile device to make and receive phone calls over a WiFi network. So, instead of using your cellular network, you can use your internet connection to send/receive calls.
This is generally cheaper than using your cellular data plan. And it's good for the environment since you're not using up as much data on your cell network.
Who can use WiFi Calling?
All iOS and Android devices with mobile or wifi capability and up to date operating systems support WiFi Calling. You just need to check if your device supports this feature.
How do I set up WiFi Calling?
That is really an easy process.
All you need to do is connect your device to a working Wifi network, and turn on the Wifi calling in settings.
How does WiFi Calling work?
Let's see together:
Calling and texting with WiFi Calling
You do not need any other application to call and text via Wifi. All you need to do is call, text, and send pictures like you always do. You will see a call indicator that belongs to the Wifi in the top left of the screen when you are using this feature.
Leaving WiFi coverage
Even if you leave the coverage area during your wifi conversation, your call will not be interrupted and your phone will automatically switch to 4G calls. 4G will appear at the top of your screen. On the other hand, if your phone cannot find a 4G signal, your call will be cut off automatically.
Remembering the WiFi network
If you are connecting to a private Wifi network for the first time, you must enter the password and save the network. If you do this, you can connect to the same Wifi again without being asked for a password. On the other hand, if you do not select the remember password option, you will have to reconnect each time.
Calling 999 with WiFi Calling
You can also call emergency services with the Wifi calling feature. However, your phone must allow location detection.
How much does WiFi Calling cost?
WiFi calling is free when you have an active voice and data plan with your carrier. So how much does it cost to use this service?
First, you'll need to contact your wireless carrier to get set up with WiFi calling. Then, just make sure you have your mobile number and WiFi network password handy so you can enable this feature on your compatible device.
Why calls over WiFi are part of your monthly allowance?
WiFi and the internet are used to connect your mobile phone to the EE network. EE makes it work by connecting the call and forwarding the text to you.
Data allowance
Wifi calling does not use your mobile data. A small amount of WiFi internet data is used to make and receive calls. If you have unlimited WiFi access, you can make as many calls as you want.
Having problems with WiFi Calling?
You need a well working Wifi coverage, reliable internet connection, and enough bandwith to use this feature properly. Let's see frequently asked questions about wifi calls:
I can't see the WiFi Calling indicator on my phone
If you can receive calls, call others, and send messages, your phone has an active wifi connection. However, if you're unable to send text messages or make calls, you may be experiencing one of the following issues:
Your phone may be having trouble connecting to Wifi
Your phone's Wifi setting may be turned off.
There may be a problem with the network you are trying to connect to
Poor audio quality when making or receiving calls with WiFi Calling
This problem may be caused by bad bandwidth of Wifi. Bandwidth can be affected by actions performed over the same network and the number of connected devices. Reducing the number of connected devices and terminating a used action can increase bandwidth.
Dropped calls while making or receiving calls with WiFi Calling
Dropped calls usually occur when there is no 4G coverage after your Wifi call drops. Staying close to your router while calling can help you stay connected. For this reason, you should have your WiFi router close to every part of the house.