VoIP CRM integration equates to more queries processed and pipeline leads from the pipeline. To create workflows in a versatile and customized way, you need to take advantage of VoIP integration for your business. Multiple manual tasks connect sales, support, and call center representatives during business hours. Manual tasks also come with margins of error. Even the smallest mistakes can be quite costly for your business.
What is VoIP Integration?
VoIP integration helps you synchronize different tools with your phone system. Integration between a phone system and third-party business tools eliminates unnecessary manual tasks. The important advantage of the VoIP phone system is that you can run it on many fixed lines such as laptops, desktops, and mobile phones.
You will need to get a business phone to both make and receive calls. You usually need to use the phone system as well as CRM software and help desk software. Switching between the phone system and other software disrupts your workflow. It also consumes valuable time, energy, and effort. Agents tend to spend more time on manual tasks, rather than dealing with customers or connecting with potential customers. It is one of the places where VoIP integration comes in handy.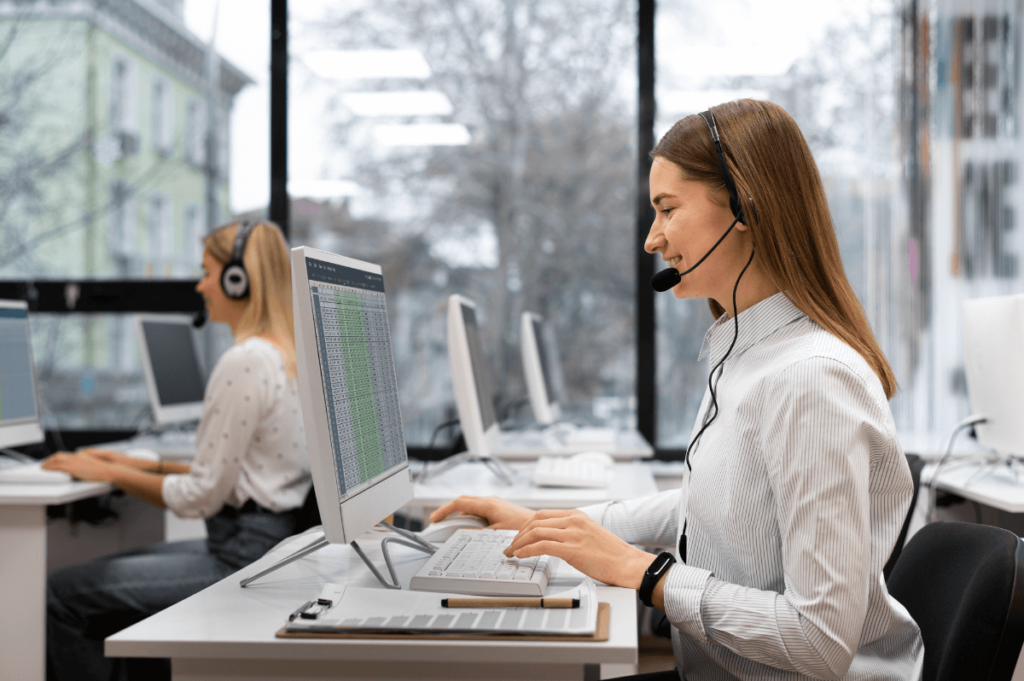 What is VoIP CRM Integration?
VoIP CRM integration provides the link between a VoIP phone system and customer relationship management (CRM). Thanks to the integration, you can automatically synchronize all information between 2 tools. Companies that sell by phone, and companies that deal with customers on the phone usually need to have a CRM. Without CRM, there will be no work. CRM software helps you effectively record every detail and customer interaction.
It also synchronizes all the important information between the phone system and the CRM software. This frees up more than half of agents' workloads. When you end a conversation with a customer, agents don't have to manually enter details into CRM. CRM integration with VoIP phone system saves trouble. It automatically saves call and customer information in CRM software.
Advantages of VoIP and CRM Integration
VoIP CRM integration is created to streamline your entire sales process. When agents have their data in front of them, it's much easier to process customer queries. You can also easily create customized workflows using the VoIP CRM integration that meets your use case. Advantages of VoIP CRM integration:
1. Effective Data Collection
It helps you organize and save every piece of data from start to finish with ease. For sales representatives, detailed information about potential customers also helps you organize sales conversations accordingly. At the same time, support agents will need to know each customer's case history. The integration helps you automatically synchronize all the important information between your phone system and CRM software. Here's how a contact center agent typically works:
Makes calls using customers' names and numbers.
Saves My Search data in CRM.
It forms the wishes and complaints of its customers.
Finally, it helps you keep track of the search without referencing any directory. The information is automatically saved in the CRM software. In this way, it makes the work of the representatives easier.
2. Low Operating Cost
With VoIP CRM integration, the costs of your operations will also be significantly reduced over time. You won't need to buy the two software separately. The VoIP phone system that comes with native CRM integrations prevents you from investing in any other software. At the same time, VoIP phone systems allow your employees to better manage their activities. This helps increase work productivity and reduce unproductive hours.
3. Make Calls Directly from the CRM
VoIP CRM integration enhances functionality. However, it eliminates unnecessary manual steps in the process. VoIP integration helps you make calls directly from CRM. The most cumbersome part of a representative's job is the problem of delays between calling contact information and joining a call. To get rid of this time-consuming gap, intermediaries will need to have more time to make more calls. Thus, intermediaries will have a more systematic framework in place.
4. Streamlines Post-Call Actions
VoIP CRM integration also simplifies all post-call processing and formalities for agents. After the agents finish their conversation with a customer, they pass the details to the CRM. Instead of manually recording information about each call, the VoIP telephony integration with CRM does the work for you. It also synchronizes the information received from the phone system with CRM in an automatic way.
VoIP telephony functions, including call recording and call notes, are very useful. Agents record conversations and can easily take notes during calls. The integration helps you automatically save all these details in CRM. To do the next follow-up actions of your calls, call rating codes automatically trigger a series of follow-up emails, messages, calls, and other actions.
5. Leverage SMS and Automation
Another feature you can take advantage of is SMS. SMS has a much better conversion rate with an open rate of over 85%. Apart from the basic SMS feature, you can easily take advantage of various other functions by synchronizing your VoIP phone system with CRM.
Click text icons: You can easily access the click text icon next to each contact. For busy agents, Click on the text buttons next to each contact work through the use of helpful shortcuts during the busy workday.
SMS automation: You can use SMS automation to send SMS to your contacts when a certain condition is met. In this way, it is possible to send automatic text messages within the scope of tracking and dripping campaigns.
Bulk SMS: If you want to take advantage of SMS marketing, bulk SMS is a resourceful function of CRM and VoIP integration. It is possible to send promotional and marketing messages to many people from your CRM.
6. Enhance Customer Relationships
Seamless customer engagement helps the business build much better and stronger relationships with customers. This will help your business hold on to your loyal customers with ease.
Consistent personalized interactions based on your customers' needs, preferences, and expectations also help you increase customer value throughout life. With these, you can increase retention and even turn these customers into brand advocates.
7. Keep an Eye on Important Call Analytics
With a solid CRM VoIP integration, you can get very important call analytics. It's a usage where you can view all metrics and KPIs related to your outbound and incoming calls. You can track metrics such as the number of calls made and received. You can see how much time was spent on each search.
8. Boost Your Team's Productivity
Switching between platforms during the first interaction with customers to hunt for data consumes critical time and bandwidth. None of the callers like to repeat the information they share. With VoIP CRM integrations, customer support teams won't have to switch between multiple program devices. From the moment they answer a customer call, they can instantly access all the essential details in one place. Therefore, customers do not need to wait long to catch up.
Phone integration with CRM comes regardless of the device that you have used. It also automatically logs all outgoing voice calls. Later, you can get the complete call transcript of call notes and voice messages.
You will no longer need to save time for data entry during or after customer conversations. Instead, your sales reps will spend valuable hours interacting with customers without any interruptions. Sophistication and productivity mean much more business growth.
Top VoIP Providers for CRM Integration
If you need an easy-to-use VoIP solution without sacrificing quality, Justcall will be the right choice for you. It is used by more than 6 thousand enterprises worldwide. It also provides ease of use for SMEs. Together with VoIP phone systems, the automated call distribution system offers analytics, SMS workflow, and much more ways for us to communicate with you. In this sense, there are many advanced features.
You can connect VoIP to your favorite CRM software — Zapier, Salesforce, Hubspot, and Zoho CRM — in a single dashboard. Similarly, Salesforce, Zoho CRM, and HubSpot are popular solutions that combine advanced features and play a crucial role for sales and support teams. In short, you will not need to change content. In terms of price, JustCall's CRM phone systems are very affordable. Depending on the packages you choose, you can take advantage of these benefits.
Top CRMs You Can Easily Integrate with JustCall
There are CRMs that you can easily integrate with JustCall. These:
Sales Team
Salesforce's cloud-based software helps you easily manage leads, contacts, and opportunities from anywhere. But the real power lies in the ability to connect your business to all the other systems that make up your business ecosystem. You can easily use Salesforce to gather all your data in one place. This makes it much easier for sales and support representatives to work with other applications.
To take full advantage of Salesforce's features, you can use the best VoIP to make and receive calls directly within the Salesforce platform. So, you can easily access your customers' information. It will also provide fluent communication with your support teams.
Center Point
HubSpot is a very popular CRM that sales and support teams use. It helps you keep track of potential customers. It can also create custom campaigns to manage your sales pipeline. The software also comes with analytics that shows you how you're performing your team's performance by common benchmarks.
OnePage CRM
OnePage CRM is a combination of a contact management system and a productivity tool. The database creates a dynamic to-do list with a task or reminder next to each contact. That way, you won't forget to schedule a call or send another follow-up email.
Customer
Customer's suite of tools helps organizations connect with their customers in real-time. It also enables consistent, personalized cross-channel experiences, and increases conversion rates. The software also manages all customer interactions from lead generation to onboarding, including the ability to follow up with customers after the initial interaction.
Pipe Driver
Pipedrive helps small businesses manage everything from generating leads to customer support. It is a cloud-based solution. The tool provides managers with a comprehensive view of everyone's performance and goals in line with their goals. Thus, it helps them manage all their sales teams as well.
Zendesk
Zendesk is one of the best CRMs that helps you manage and connect with your customers and keep track of their information. The system shows contacts, leads, case management, service requests, and more. Zendesk also makes it easy to manage sales processes such as lead generation, customer engagement, and tracking.
Zoho CRM
Zoho's flagship CRM software helps sales and support teams make much better decisions. It is a cloud-based solution that offers many tools for this. It helps you manage your contacts and business opportunities. It helps you track web leads and manage email campaigns and sales pitches.
Choosing the Right VoIP Phone System
VoIP phone systems have gained a lot of importance not only because they are much cheaper than on-premises PBX systems, but also because they are independent of hardware. With advances in technology and an ever-changing global ecosystem, companies are rapidly replacing old-fashioned landlines with VoIP solutions. While the transition seems simple, choosing the appropriate VoIP provider from hundreds of options is a lot of effort.
For this reason, many different factors must be considered. You also need to make a deal that meets your specific requirements. Looking at reviews and rating sites like G2, Capterra, and Trustpilot helps you make informed decisions. You also need to look at how your VoIP system integrates with your CRM and the level of ease with which the workflow can be set up. You can also demo each vehicle in the evaluation group before finalizing your provider.
In addition, when choosing the right VoIP phone system, it is also necessary to consider the scalability options offered by the provider. As your business grows, you can have a phone system that can accommodate many more users and lines without incurring additional costs. Another important factor to consider is that the system is secure. The VoIP provider you choose must protect your business from cyber threats. For this, make sure that it offers advanced security features such as encryption, firewalls, and permission entry detection.
Finally, it is necessary to proceed by considering the customer support offered by the VoIP provider. You need to have a responsive provider to troubleshoot any issues that may arise. You can check if there is 24/7 customer support. You can also test the responsiveness of the provider's customer support team before signing up for their services.
Unlock Limitless Possibilities With VoIP Integrations
A full-scale business or call center operates by relying on different tools and software for different business components. Many teams use help desk software, automation tools, and other software rules to perform different functions. JustCall native business tool integrations include Zapier, Freshdesk, Slack, and more to suit a variety of business use cases.
JustCall's VoIP setup is designed to be easy and efficient. It also helps you get your system up and running quickly. It also allows you to start reaping the benefits of cost-effective communication.
FAQs About VoIP Integration with CRM
1. What is VoIP integration?
VoIP phone system integration, in short, helps to synchronize users' information with third-party tools such as CRM software, helpdesk, automation software, etc. VoIP integration removes unnecessary manual processes from workflows and offers streamlined operational capabilities.
2. What CRM integration is needed?
When it comes to CRM integrations, the most basic ones are CRM-phone integration. It also includes team communication integrations and helpdesk software integrations.
3. What is the best CRM software?
HubSpot, Pipedrive, and ActiveCampaign are some of the CRM software that has many users.
4. Does HubbSpot offer VoIP telephony integration?
Yes, HubSpot offers VoIP telephony integration. Thanks to Juscall, you can take advantage of the various functions of HubSpot telephony integration. You can search directly from your HubSpot account. You can even send text and use SMS automation.
5. How to use VoIP software?
VoIP helps you make calls from anywhere using a simple internet connection. All you need is to have an electronic device to make calls with VoIP software.