Have you ever wondered what is VoIP number? Get a VoIP number if you want to use it from anywhere you want, they said. There are countless ways of communication that we have through the power of the internet yet, but people are still calling each other. "Voice over Internet Protocol" is one of the ways people call each other.
Before diving into how to get one, let's start with what it is.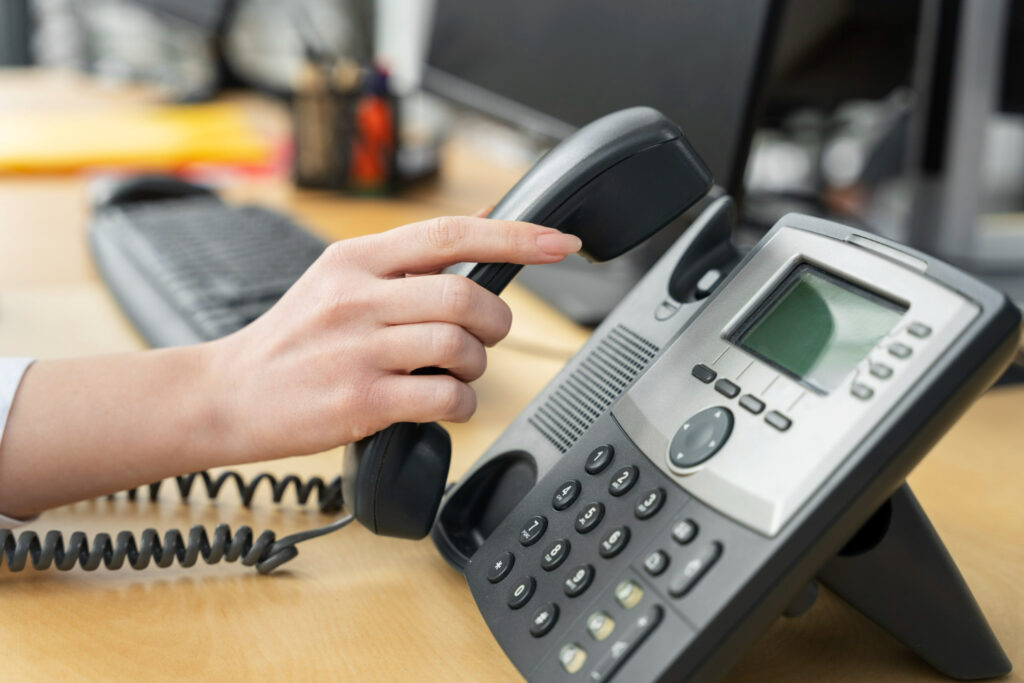 What Is a VoIP Number?
VoIP is known as Voice over Internet Protocol which doesn't require a cell network to connect: It's a phone number but works differently than traditional ones: These numbers are assigned to real people but do not use a specific region or location. Since they are working through an internet connection rather than a cell network, they can be operated from any device, for example, mobile phones, mobile devices, and computers via the VoIP phone app.
Indeed, having a VoIP phone number is nearly the same thing as having a phone number or a landline to dial with one difference: They work through the internet but not phone carriers. It's a new type of communication technology, and businesses are starting to practice it.
What makes them better than conventional landlines is, VoIPs enable saving tons of money. Also, they protect your businesses from any kind of fraud alerts via cloud-based technology. Last but not least; they are a good choice for businesses that work virtually and have multiple locations worldwide.
How Does VoIP Work?
VoIP working logic is straightforward. VoIP service works by performing calls over the internet. Unlike traditional phone services we are familiar with, VoIP numbers use a broadband connection. So the proponents of "get a VoIP number" are correct since they can handle a call most efficiently!
On the other hand, VoIP is not limited to just making calls over the internet. At the same time, the VoIP service also uses different forms of communication, such as sending and receiving short messages and provides services in this way. Thus, for example, an employer can choose a valid VoIP number for its employees, even when they work remotely to hybrid. In the age of technology, where everything is replaced by its digital counterpart, via the significance and validity of VoIP, traditional phone services are starting to lose their former importance.
The Difference Between VoIP and Regular Phone Numbers
If we need to take a quick look at the differences between a traditional phone number and a VoIP service, they are different by definition. Normally a familiar way of communication is pursued by a regular phone number where copper phone lines are used. However, VoIP uses the internet and internal enterprise LANs.
Also, the second difference between them is the way of transmission. While regular landlines depend on a location, VoIP numbers do not.
Let's compare the two types of communication:
The main difference between VoIP and landlines is that VoIP works via the internet, whereas landlines work via cables.

Since VoIP numbers are not tied to a fixed location like traditional landlines, they can be freely used from almost anywhere. However, landlines are limited to locations and cannot provide constant communication in this respect.

Landline numbers do not allow data to be stored and saved anywhere unless you use a special application to do it. On the other hand, VoIP service can store your conversations, phone calls, and text messages in a cloud database.

VoIP networks are much faster than landline networks through their 4G and 5G wireless connections.

Since landlines work with cables, they cannot be used functionally in places with no electricity. Therefore, uninterrupted communication cannot be achieved. On the other hand, VoIP systems can be used wherever there is the internet.

Installation cost is the main difference between landline and VoIP services. Landlines are a bit expensive compared to the others because you need a new landline at every new location.

On the other hand, you only need to get a number from a provider to benefit from the VoIP service. This is much more cost-effective than a landline.
How Do I Get a VoIP Number?
If you wonder how to get a VoIP number, let's check together:
First, you need to do is to choose a VoIP service provider,

Then have your internet connection checked and if it's not enough, contact your provider to upgrade your internet access,

Choose a VoIP service with all the features you want,

Determine which device you want to use,

Sign up.
It's that simple!
You can get a VoIP phone number from any VoIP service provider. With the VoIP service, you can reduce your costs by up to 60% and instantly access many features that are only available in VoIP services.
If you are determined to switch to VoIP service, you need to know that you have a good, fast, and constant-working internet connection to set up your virtual phone system.
You need to choose a VoIP subscription that fits either your business needs or your personal preferences. After choosing the plan you want, you can start using your system on your computer or smartphone immediately by confirming your VoIP phone numbers.
Why Should I Get a VoIP Number?
VoIP numbers bring many advantages over landlines. Let's examine them:
Lower Cost
As we talked about above, a VoIP service uses your internet connection to work, unlike landlines. Since landlines use copper cables they are relatively more expensive than VoIP services even with the monthly service.
You also have the chance for accessing to a ton of premium features included with the monthly plan. This includes all the favorite features such as an auto-attendant, call queuing, intelligent call forwarding, and one-click conference calls for your businesses.
More Accessible
As we mentioned above, the VoIP phone system does not need a physical location to make calls and send text messages. The ease of use of the VoIP service comes from a stable internet connection. This allows basic communication from almost anywhere in the world.
Better still, VoIP doesn't use a lot of bandwidth. Even with a tiny 10MB connection, VoIP can handle 100 simultaneous calls. Thus, with advances in LTE technology, you can use your smartphone to make calls and send and receive text messages safely.
Wired connections are best, but once you have a strong Wi-Fi signal, you should be pretty satisfied.
More Flexibility
A VoIP network has a great deal of flexibility in many aspects compared to a landline. For example, adding multiple phones to an existing system in an internal phone network is limited. When you use a VoIP network, you are bound to a bandwidth. This gives you many popular broadband plans, allowing you to manage hundreds of calls.
Another reason VoIP phones give users a lot of flexibility is that they can work with any device they want. VoIP service; will work seamlessly with computers, tablets, and VoIP phones. Most VoIP phones offer accessories such as wired or wireless headsets to help you get things done and make calls easily.
Better Voice Quality
VoIP with a strong working internet connection and high bandwidth. service sound quality will be better than a traditional telephone connection. This is made possible by VoIP's use of the latest audio compression technology known as "codec" to digitally convert audio, eliminating line blur and static, and providing seamless communication over the internet. This system has twice the bandwidth of a landline phone call. This means clearer voice quality with every call.
Multiple Devices
One of the good features of a VoIP number is a single virtual number mechanism that can work with multiple devices. A VoIP phone number assigned to a person rather than a location can be accessed from any device and actively used from any location.
Once logged in, VoIP users can make an active connection using their personal or company computer, mobile phone, or tablet to call contacts or send text messages. At the same time, these virtual numbers can forward calls to different phone numbers if the user prefers to do it.
Remember that you can reconfigure VoIP phone numbers and call forwarding as you wish in any case. If you have a team that you assign to answer incoming calls, your phones may ring many times at the same time.
Choice of Area Codes
Unlike traditional landlines, you can choose an area code from anywhere outside of your city on your VoIP phone number plan. This feature essentially ensures that people do not pay any additional fees when calling an area code of their choice.
On the other hand, this feature allows business owners to put their stores in a more reliable position. So much so that an area code parallel to the location of the store will inspire reliability in customers. It can also be beneficial for businesses with multiple locations. If these stores have a common headquarters, the numbers can be forwarded to the same location.
Number Portability
In the past, when we moved, we had to close our phone lines and have a new line connected. But now with VoIP, we won't have to do that when we continue calls from anywhere. VoIP number portability is an option that saves any business owner unnecessary downtime.
As we mentioned above, since the VoIP phone number works regardless of location, the same phone number can still be used. Here, all that is required is a reliable IP connection. This number portability means that if a business chooses to use the VoIP service, it can actively use it without changing its phone number.
Toll-Free Numbers
Toll-free calling is now available to all businesses, whether large, small, or medium-sized, thanks to VoIP numbers. While this will vary from provider to provider, most VoIP providers will offer the option to call either free or at very low rates.
Although toll-free calling is a feature available on landlines, you need to be a member of a certain tariff and be charged over that tariff to do so. On the other hand, these searches are also limited to a single location.
The feature of the VoIP number is that you can make these calls from multiple devices with a single number.
What You Need to Support a VoIP Number
Let's check:
Hardware: You will need a router to talk to customers. For this, you will need an active internet connection and usually a wired or wireless headset.

Internet connection: Since your phone number has a working system over the internet, you should make sure that you have an active internet connection.

Bandwidth: You should check your bandwidth and take measurements as needed. You will need a special device for this.

Software: Well-developt software will help you manage your VoIP System, from recording calls to rerouting traffic.
What to Know Before Getting a VoIP Number
One of the most important decisions you have to make here is your VoIP service provider. The company you choose will determine many aspects of the VoIP service. These features will include many things such as the price you pay, the reliability of the network, and the features offered. Determine factors such as availability, price, and features. On the other hand, you need to be careful against scams. Make sure your provider is reliable, do good research and reach a conclusion accordingly. Because the wrong provider will only bring you harm.
Is It Time for You to Get a VoIP Number?
Today, many businesses prefer VoIP phone service. Although landlines are still a useful and often preferred service, VoIP services can offer much better and similar features for less money and more flexibility. For example, if you are a local company with global customers, it is helpful to choose a VoIP service to manage your calls.