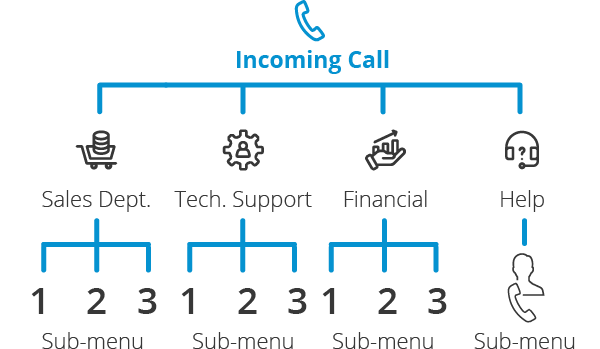 Auto attendant, AA, or Automated Phone System transfers incoming calls to certain extensions without the intervention of a human operator. An AA works like a virtual receptionist. Most AAs are known for their ability to route calls to landline phones, cell phones, VoIP devices, or other AAs.
Let's dive into them!
What is an Auto-Attendant?
Auto attendant, automated phone system or AA is used to define a voice menu system on the phone. This is a common and popular feature among business phone systems and call center solutions.
What does an auto attendant do?
AAs offer options to divert incoming calls with the phones keypad and do this via a menu. For example, after a welcome to brand X, we hear options such as select 1 for sales, 2 for customer service, 3 to listen to the menu again.
Typical AA forwarding steps include forwarding calls to specific extensions, forwarding calls to voice mailboxes, forwarding calls to submenus, serving standard recorded messages, and more.
How to Set Up An Auto Attendant
Setting up an automatic phone system depends on the preferred provider. But the steps are generally as follows:
Selecting the desired call handling method (all calls are forwarded to the auto carrier)
Assign department and/or individual agent business phone numbers and add additional numbers for call forwarding
Writing and recording voice mailbox messages
Creating call groups
Choosing whether to have an operator
To set business hours and day and night mode
Setting up holiday voicemails
Directing the caller to the main menu
forwarding calls to voicemail
Forward calls to another phone number
And finally save all auto carrier settings!
Best Practices for Implementing an Auto Attendant
Let's see them together:
Charting Out the Entire Call Flow
You must have a visual diagram for the search flow. Thus, you do not miss any details for individual call transfer options and possibilities. Callers may ask you for basic business information or may choose to speak in another language. On the other hand, callers may not know which official to talk to specifically about their needs or real problems. Automated phone system should be designed according to what the callers are looking for the most, their needs or the people or departments with the highest call volume.
Making a diagram of call flows also ensures that callers are logically distributed throughout the system.
Using Professional Voice Talents
While it may seem like a good way to save money for a freelancer voice, an in-house just-sounding employee, or paying someone for an automated call, it can cause problems. Using different sounds at different times prevents you from having a stable tone and can actually confuse callers. For this, you should get a personalized service specific to you and your brand, and avoid simple communication problems.
Stage Inbound Callers To Departments With On Hold Messaging Features
Automated attended system can hold calls until you answer them. While doing this, it can direct to certain features or use a fixed music. However, in order for people not to get bored while waiting and continue to wait, you need to keep them active instead of just making them listen to music. Therefore, by adding messages and actions to this system, you can use this process both to get basic information of callers, to inform them about promotions and campaigns, and to keep them active while they wait.