SIP Trunk is a very useful way to revolutionize a business and lead the company into the future of internet telephony systems. SIP Trunk features are more reliable than legacy telephony deployments. It also helps you optimize your communications with your customers from scratch. With SIP functionality, it's possible to make clean, clear voice calls and high-quality video interactions. So, your customers can say goodbye forever to the risks of a bad search experience.
The most striking SIP Trunk feature is that it is economical. It can replace any physical need. There will be no need to purchase additional hardware. So, adding new lines, upgrading, and setting up your service will be quite simple. But what SIP Trunk features do your business need to have? First, you need to answer this question. Almost every business, big or small, can benefit from the SIP Trunk service. But you will need to read our article to find out which features are suitable for customers and companies.
What is SIP Trunking Features?
SIP uses internet connectivity to allow businesses to operate telephone systems instead of traditional telecommunications methods. Trunking is a system of lines that are used by multiple users and can ultimately be integrated as a network. You may also be familiar with the term VoIP. Voice over Internet Protocol (VoIP) allows users to easily make calls over the Internet. It is possible to connect your telephone system to the public switched telephone network (PSTN) with a SIP trunk for the facility. Also, a business may have PBXs that have already been set up for the phone system. Thanks to SIP features, all office telephone services are easily connected to the outside world.
You can imagine SIP Trunk as the voice version of the HTTP address found on the website. It is popular as a catalyst within the scope of commercial telephone services. However, SIP also manages to get ahead of phone functions, including a wide range of messaging options. It is also possible to combine SIP systems with communication systems within your company. You can sync your channels instantly. You can also significantly help your customers increase collaboration, productivity, and efficiency in their organizations.
What Is SIP Trunking Used for In Business?
Taken as a whole, the goal of SIP Trunk is to change the Primary Velocity Initiative (PRI). With PRI technology, which provides voice communication and data using copper lines, it is possible to see their use all over the world for a long time. You can also think of it as just a large bundle of analog lines.
PRI technology is not only expensive to maintain. It also empowers more and more people to work remotely. SIP Trunk is a great use for small businesses that need to run on a budget. It is a much more cost-effective and adaptable business communication tool.
Customers are also wondering if their business is ready for SIP services. For this, here are a few questions to ask you as a reliable IT or Telecom consultant:
Is the current phone system expensive to maintain?
Am I investing too much in call volume that my company isn't using?
Are we dropping calls? Do we need higher security for this?
Is my workforce remotely migrating to hybrid permanently? Can I travel?
In short, to summarize all this, SIP Trunk can be adapted quite easily. It is much more affordable, and reliable and offers a high degree of flexibility than other uses. The less time your customers spend addressing issues at the technical touchpoint, the more time they can spend growing other parts of their business.
Speaking of business growth, SIP Trunk is a critical tool that helps alleviate the challenges experienced at the point of expansion. It easily shows you that it is very practical and effortless to combine communications between locations over a single network. It also stands out by making your growth process much more manageable. With the growth of companies, needs such as call volume and customer support will also increase. Thanks to SIP Trunk, it will be easier than ever to set up a claim in a new employee's remote office.
In older systems, adding phone lines and IP infrastructure has been an extremely challenging process. With SIP Trunk features, it can all be accomplished with minimal effort. You just need to apply it when necessary.
Sip Trunking Features for Companies That Are Most Popular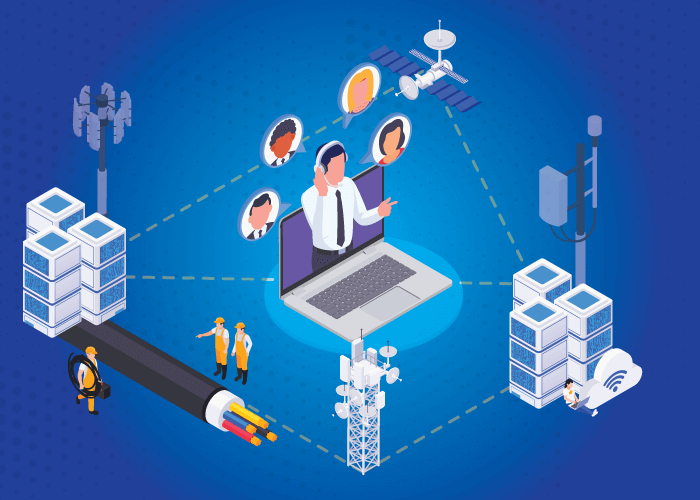 With all this you have said, you have also understood what the SIP Trunk is. But which SIP Trunk features should your customers use? Mitigated business communication costs are a highly important factor in addition to the flexibility of SIP. With this in mind, we will explain the most popular SIP Trunk features that companies have used to improve their communication experience and reduce their costs.
1. Call Data Records
Call data records, also known as CDRs, help users understand the results and insights of their communications. At the same time, it can easily shed light on the wishes of callers. With SIP, you can get precise, reliable data about callers. You can easily review the search history up to a year ago.
2. Multiple DID Options
Direct Intercom (DID) is when a service provider connects you to a particular block of phone numbers to the business's PBX. With SIP Trunking, you don't need to have a real physical office address in a specific location. It will also be enough to have a phone number that will be displayed locally in a particular market.
3. Local Numbers with Remote and Home Offices
Similar to DID options, SIP Trunk also helps company employees work from anywhere in the world. This will allow the business to have a local phone number as its primary address. This feature is a top priority for local markets. For example, if you're a seller in a certain region, your number appears to be more local because it's in an area code thousands of miles away. Thus, potential customers are more likely to trust you.
4. Toll-Free Numbers
In addition to DID numbers, SIP Trunk features also support 800 and other toll-free numbers. For many customers, this support is very useful for businesses.[1]
5. Interoperability
In addition to the incoming caller ID, it allows you to change the work ID and individual ID of your choice. In this sense, you get a highly customizable outgoing caller ID.
6. Voicemail
SIP Trunk features include voicemail. It offers all the advanced features of other PBX systems for voice mail. Delivering copied emails directly to your email is an example of the voice mail feature that SIP Trunk supports.
7. Customizable Caller ID
SIP functions are now considered an industry standard for voice communication. Desk phones are supported by the vast majority of VoIP software and equipment, such as IP PBX systems and gateways for VoIP. And with the flexibility to mix and match software and hardware, you're free to experiment with what's right for your company.
8. Disaster Recovery
If you experience power outages, the SIP Trunk is routed to different locations when employees can't reach the phones. Thus, continuity in communication is ensured. In this way, you will never miss the rhythm.
9. e999
This feature, known as nomadic 999, means that when a user call 999 from a phone without a local number, the calls will be forwarded to the relevant emergency center for their physical address, assuming the number of charges. [2]
10. Internet Toll Fraud Prevention
Internet toll fraud prevention is very important for SIP Trunk services. In essence, this feature is designed to detect suspicious search patterns. It can also suspend callers and international calls. In this way, you will also avoid fraudulent attacks.
Why Should You Work With SIPTRUNK?
We offer you a platform for companies and independent consultants who want to manage SIP Trunk applications and earn revenue regularly. SIP Trunk is extremely easy to use. VoIPinger makes it easier than ever for SIP Trunk customers to bid, provision, bill, and manage. If you want to learn more about SIP Trunk, you can contact our VoIPinger customer representatives.
---
burda bahsedilen tool free numberslar US de kullanılan uzantı sanırım 800 olması
burda uk emergency numberlarını kullanabiliriz. sanırım içerik US e göre yazılmıs