When researching the best phones to use, you've probably come across many VoIP phone options. These are phones that can connect to a wireless network and do not require cables.
For wireless VoIP phone systems to work properly for your organization, you cannot choose any phone because the range you want to cover with your phones and the features you need is extremely important.
In this article, we analyzed the best wifi phone VoIP options on the market!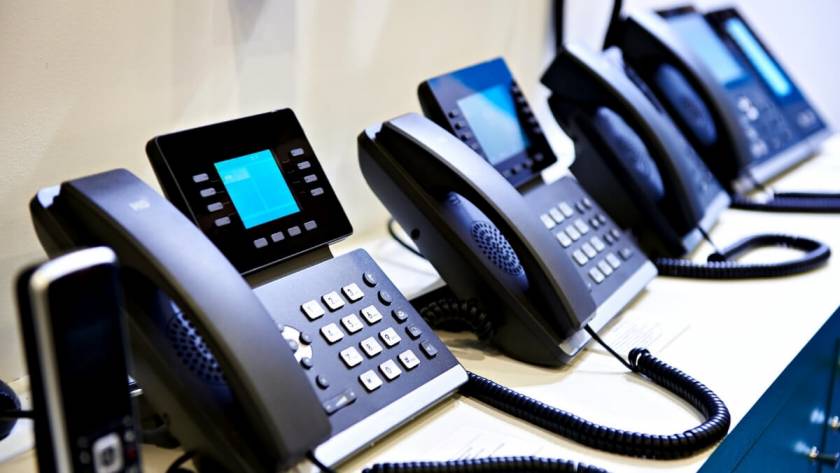 Best Wireless VoIP Phone in 2022
Let's examine the choices:
Gigaset C530IP
The Gigaset C530IP is a hybrid cordless phone that can use DECT and VoIP technologies simultaneously.
It's easy to set up and start using right away. Also, this phone is an ideal option for a small office. You can use it to make up to three simultaneous calls without having multiple phone lines. All you need are additional handsets! In this way, everyone on your team can have access to a reliable wireless voip phone system solution.
You can expand its total capacity to up to six SIP accounts with six different phone numbers.
The best features are:
HD sound quality,
Hands-free calling with the option to connect a headset to the phone,
Phonebook with up to 200 entries,
Direct download of contacts from your smartphone,
Long life battery.
Grandstream DP720
The Grandstream DP720 is the ideal wireless voip phone system for small, medium, and large businesses.
This phone has an outdoor range of up to 300 meters and an indoor range of 50 meters from the base station. This feature will give you the flexibility of movement at the time of the call.
The DP720, on the other hand, provides motion flexibility for effective call handling, as well as HD audio quality.
Cisco SPA525G2
The Cisco SPA525G2 is a powerful wireless voip phone system option for your wireless networking options. This option is preconfigured and your network automatically recognizes it. This way, you don't have to make individual adjustments for each new employee.
You can use your Bluetooth to integrate, make and receive calls with your mobile phone.
Key features for Cisco SPA525G2 are as follows:
Enhanced network connectivity with optional Power over Ethernet (PoE), Wi-Fi client, and Bluetooth headset support,
Productivity apps, view RSS feeds, and view digital photos right on the phone
Snom 3098 M9R
Snom 3098 M9R is a DECT wireless voip phone system that's perfectly configurable to your needs.
Its access point covers about 50 meters indoors and 300 meters outdoors. Because it uses a dedicated DECT frequency band, it makes your phone calls clear and free of interference.
Snom 3098 M9R makes getting started simple and straightforward thanks to its preconfigured PBX profiles.
This means you can start making VoIP calls right away. You can have up to four concurrent calls and register up to nine handsets.
Grandstream WP810
The Grandstream WP810 is specifically designed for the mobility and durability requirements of the logistics, retail, medical, and security markets. It is a wireless VoIP phone system that can be used by businesses serving in this sector.
This device offers a range of up to 100 meters and supports up to 200 devices. With dual-band Wi-Fi radio technology, you can enjoy uninterrupted calls even on the go.
You can add two SIP accounts and two phone lines. In this way, you can distribute any call you want to your sectors.
Grandstream WP810 wireless voip phone system best features:
High-quality sound thanks to dual microphone design and HD audio technology

A headphone that you can connect with a built-in speaker or 3.5mm audio jack

Up to 6 hours of talk time and 120 hours of standby time
VTech VDP651
The VTech VDP651 is another option you can use with the base station. This model of wireless voip phone system takes up less space on your desk.
This phone is one of the most cost-effective options to add mobility to your business. You can add 10 to each base station using these handsets.
It has four programmable LED-backlit keys, making call handling easy. The handset can be programmed with up to seven special feature keys for convenient access.
The most important features for the VTech VDP651 are as follows:

Three-way conferencing and multi-line support,

Up to seven hours of talk time

Full duplex speaker with HD sound quality.
VTech VDP658
The VTech VDP658 is a cordless DECT wireless voip phone. A VTech VDP68 works connected to the base station. Therefore it does not require an ethernet cable to work.
The base station to which this device is connected can connect wireless handsets up to 500 feet away. This is an IP base station with DECT. Each of the VDP658 phones can have its own extension and unique phone number.
Phones with these wireless VoIP phone systems will give you up to nine hours of talk time. Since this is a DECT phone, it will not affect your Wi-Fi signal and will not affect your other communication channels.
Grandstream GXV3240
Grandstream GXV3240 is another model of this brand. The wireless VoIP phone system has integrated wifi with multimedia. In this way, this wireless VoIP phone can easily be used by fast-growing companies.
Alongside the others, you can use this phone for video calls as well as for high-quality audio calls. And, we didn't even tell the best part! You can arrange up to six audio conferences and up to three video conferences! Also, since the wireless VoIP phone system uses an Android interface you can transfer calls to another android phone. All you need to do is connect to wifi!
Spectralink 8440
Another wireless VoIP phone system Spectralink 8440 has the ideal technology for field teams and workers. This wifi phone VoIP is frequently used in the retail, hospitality, healthcare, and manufacturing industries because it offers a fast and effective connection with colleagues and customers.
It is a long-lasting, robust and reliable phone. It provides superior sound quality and has two battery capacities. One is the standard model which offers up to 8 hours of talk time and 80 hours of standby time, and the advanced model offers 12 hours of talk time and 120 hours of standby. On the other hand, this phone has a flashing LED for incoming calls, voicemail messages, and non-Wi-Fi network coverage issues. light is available.
Spectralink 8440 is frequently preferred for corporate communications.
Panasonic KX-TGP600 SIP Cordless Phone System
The Panasonic KX-TGP600 consists of a base station and a handset. This wireless VoIP phone system is a DECT system. You can add up to 8 DECT wireless handsets to this system. It is easy to set up and manage. In this device, users can obtain up to eight different phone numbers. This phone can hold up to 500 contacts in its directory. It is therefore ideal for interactive, small, and medium businesses.
The wireless VOIP phone in question has a call time of up to 11 hours and a standby time of up to 200 hours. It has a three-way conferencing support feature.
Its best features are:
There is no messy cable look because it can be mounted on the wall in a practical way.

Up to eight simultaneous calls
RTX8660 IP DECT Base Station + RTX8630 Handset
This wireless VoIP phone system DECT base station is a combination of RTX8660 and RTX8630 wireless handsets. You can use up to 40 from this base to support 200 users. You can easily use this solution with wireless sync support software.
The RTX8660 base station works with RTX8830 and RTX8430 handsets. The best features of the product are:
Clear and quality voice calls,

Easy-to-use local phonebook with up to 100 entries

2-inch LED display

Up to 18 hours of talk time and up to 200 hours of standby time.
What's the difference between DECT and Wi-Fi phones?
Wireless VoIP phones use a local company to make and receive calls. Their difference from traditional phones is that they do not have copper cables and can be communicated from anywhere thanks to the ease of access to the internet. They are easily mounted on the wall with their wireless feature.
DECT, which is specially designed to transmit audio, uses the internet access (wifi) and connection you are using. Essentially, DECT includes a DECT base station and a cordless handset. It has an independent system. In this scenario, the base station only forwards incoming and outgoing calls. It does not interfere with your Wi-Fi network and does not affect your other communication channels.
Both options are common with wireless VoIP phones.
How to choose the best wireless VoIP phone
To choose the best wifi phone VoIP for you, you can pay attention to the following:
Budget,

Search and other features

The size of your team and your company's growth potential

Range and coverage
1 – Consider your budget
Wireless VoIP phones come in different shapes, sizes and prices. You can choose the one that fits your budget, as there are pricing options to suit different budgets. Here you have to choose between budget and features.
If you need a good coverage area, if you have a small business, you can get a high-end phone that fits your budget. However, if you plan to provide wifi phone VoIP to a team of 300 people, your costs will increase. That's why your company's budget is more important than the phone.
You can mix the specifications of the models and make a list accordingly. After choosing a few high-end models for executives, you can choose a device with multiple speakers for your meeting rooms, and a basic device for the rest of the team.
2 – Evaluate the must-have vs. nice to have features
Decide what features you need. Many wireless voip phone systems can offer a superior range, multiple technology options, the option to add multiple handsets, and many other features to suit different budgets. However, here, give priority to wireless VoIP phone systems with features that you will definitely use in your business, rather than devices that cover all features according to their requirements. For example, a must-have feature for your team might be a large screen with many buttons for quick shortcuts. However, if you have a small office, having a wireless range of 250 meters will not be a big deal for you.
The reason for evaluating different features is to categorize options according to your business and budget. Two phones for the same price can have completely different features. Therefore, determining what is your priority and what is not helps you eliminate the options you need and don't.
3 – Plan for the future
The third point you should pay attention to is not what your company needs today, but what you will need according to its growth potential. For example, you may have more than one office and thousands of employees to think about after 5 years. Choosing with growth potential in mind saves you from later costs.
Go for wireless VoIP phone systems that can offer you more handsets, coverage, and more. That way, you can start with exactly what you need now and not worry about it later.
As a result, you should also consider the future when considering the budget.