Run your business. From anywhere!
With efficient call-management features, our cloud-based hosted phone framework is easy and versatile. Start your 14-day free trial today! For monthly rolling contracts, there are no obligations. Make the company future-proof!
Try Now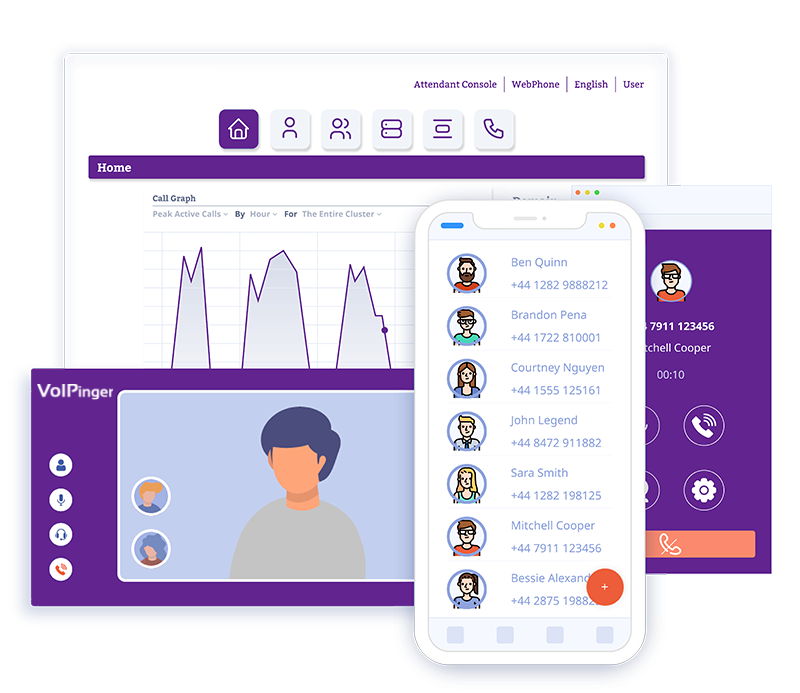 CRM integration
Today, technology has greatly simplified the way companies operate. Businesses all around the world are currently data-driven. Most businesses will now develop useful and profitable methods simply by analysing data from their interactions and relationship with future and existing consumers. All of this is made possible by Customer Relationship Management (CRM) software.
See all integrations
Access your desk phone from anywhere
Remotely manage your desk phone's feature keys, speed dial, directory, or busy lights, among other things. VoIPinger offers a full mobile device management suite, allowing you to solve immediate and complicated business problems while you are away from the workplace.
Your phone system your control.
Our Communications Platform – UC and Collaboration platforms – can be easily implemented, allowing you to maximise your ROI in the same amount of time. VoIPinger provides service providers with a robust suite of unified communications (UC) offerings and feature set. Designed specifically to provide our partners with unparalleled levels of profitability, customization, and ease of use. VoIPinger's streamlined messaging platform
Discover Softphone
PBX features explained
Even small enterprises will now profit from the wonders of VoIP, which were formerly only available to bigger corporations, such as auto attendants, faxing, voicemail, voicemail-to-text, and multi-device soft phones. These business VoIP features are so powerful that they can transform a one-man operation into a "large" one by providing an affordable phone "system" for a low monthly fee.
PBX VoIP Features
Increase team collaboration
Increase communication between peers and friends by creating public chat Spaces, which provide a space for people who actively talk about particular topics or subjects.
Wallboard
View all information and report on the one page.
We got you covered in 78 countries.
We have numbers for 78 countries and 2897 area codes around the world. If you want to launch your services in a new world, start here by purchasing numbers and managing your ability with our powerful platform and APIs.
See all countries
See how it works for your business
A sales representative will email you to arrange a personalised, insightful demonstration of the core features and advantages of a cloud phone system.