What is VoIP call recording?
Recording any phone call over the voice cloud is called VoIP call recording. Although traditional call recordings work with a traditional phone line, the VoIP call recording system works in all situations.
Recording phone calls is hard work unless you have the right tools. However, as long as a cloud system is used, searching and saving at any level is done quickly and smoothly.
The VoIP call recorder system can benefit all businesses, from both smaller companies to corporate companies that can benefit from call center recording.
How Does VoIP Call Recording Work?
With VoIP call recording, calls can be recorded in 2 different ways, passive and active. An active recording is more common and occurs when phone recording software is part of the conversation and listens to it. Recording VoIP calls and recording calls is a built-in feature of the software and does not require any special conditions. For a VoIP call recording, all you have to do is turn on any setting or just press a single button. VoIP call recording can be enabled optionally for some or all of the employees. Recording a VoIP call usually consists of an audio file that can be played like any other audio file.
Which Call Recording Software Should You Choose?
Before choosing VoIP call recording software, there are some factors that you should consider. First of all, it is important how you plan to use the VoIP call recording software.
Solutions that are more appropriate for sales or marketing or training, management, and customer service may vary. For this reason, it is important to distinguish your using VoIP call recorder purpose first.
The type of searches you want to record is also important in this context. Because some call recording solutions can record all inbound and outbound calls while others let you choose when to start and stop a recording. However, storage, security, price, and the ability to monitor calls in real-time are other factors that are important to consider.
Dialpad, Ooma Ringblaze, Grasshopper, and RingCentral are some examples of the most popular solutions.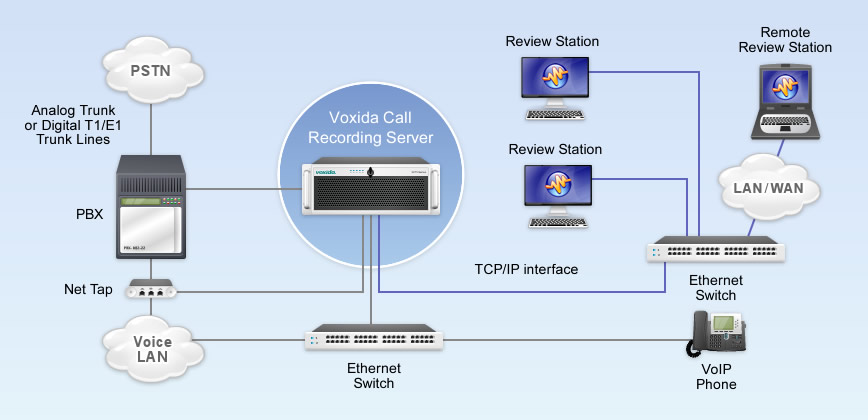 Benefits of VoIP Call Recording
After discussing what VoIP call recording is and how it works, we will now talk about why a VoIP call recorder makes life easier. Before we start, check it out if you want to take your business to the next level with the professional business phone system.
Identify Problem Areas
By VoIP phone recorder, you have the information of your employees talking to your customers on the phone. The intonation of employees and the words they choose when talking to customers are very important. Because this is very important for identifying potential problems with the customer support and sales team. Also, seeing how customers respond to certain communication styles and question patterns is critical to the development of your business. You may need to change or revise your sales and support policy accordingly.
Thanks to the VoIP call recorder you will know how your agents communicate with your customers. VoIP call recorders will help you continually improve your company and increase your overall customer satisfaction.
Keep Detailed Call Records
Archiving recorded searches in your CRM or any other information system you use can be very beneficial for your business. Thanks to the recorded VoIP call recordings, the details, and information obtained from the previous conversations can be a guide for the next ones. For example; "If you are satisfied with our service, we have another offer to choose your interest."
When talking to customers, it is important to actively listen to them. But it can be difficult to listen and take notes at the same time and also it might reduce efficiency. Thanks to the VoIP phone recorder, you can listen to what the customers are talking about by focusing. If there is something you need to take note of, then you can easily return to the same conversation and take notes.
Improve Your Marketing Campaigns
VoIP call recorder will also help your marketing team. When the marketing teams listen to the call records, the reactions of different customer profiles to potential or different marketing strategies can be measured.
Having a realistic and objective point of view toward buyer personas is of great importance for the impact of marketing efforts. In addition, you can learn what problems the customers encounter and what positive and negative effects are in communication with customers.
All of this not only helps your marketing team find creative ways to market more effectively but also contributes to keyword research and analysis. This allows you to better optimize your texts and online ads.
The possibility to listen to the VoIP phone recordings again saves you from having to guess and prevents you from leaving your job to chance. You can create excellent marketing techniques to help you attract the right audiences, and establish the right communication that will delight your customers.
Recover Missed Details
Confusing situations can arise when calls are intensified. Sometimes you can try to solve the problems of more than one customer at the same time. Sometimes you may miss the details of the calls you need. Or You may need details from another call to troubleshoot one call. VoIP call recorders can act as a savior to avoid such situations.
Watching Your Words
In almost any business, finding new customers is more expensive and more difficult than retaining an existing one. For this reason, it is very important to give due importance to your existing customers and to know how to talk to them. And it is also important to approach everyone in a courteous manner. VoIP call recorder is very important in this sense. VoIP phone recorder helps you improve and, if necessary, change the way you talk to your customers, and might maximize your customer satisfaction.
Capture Customer Stories
The reasons why your customers call you may differ. Some customers may call you for help and others to share their various experiences about your company. From all this, you can get information about many subjects such as why customers choose you, and how your product services help them.
Recording VoIP calls with the permission of customers and creating a success story for your company by collecting all these records can make great contributions to your business.
Quality Assurance
VoIP call recorder technology allows you to easily measure the quality of the service you provide. This way, your agents can improve and better tailor the way they handle support and sales requests over the phone.
Continually Improving Your Services
In order to do your job in the most professional way, it is important to have a system that can easily monitor and identify important areas. VoIP call recorder enables customer satisfaction to be carried to the highest levels. Keeps you informed if there are any recurring issues or the strengths and weaknesses of your agents.
VoIP phone recorder gives you a great space to help your teams improve their communication skills. Being aware of the way your representatives address your customers is an excellent way to increase your sales and the quality of your customer service. VoIP call recorders also give your employees a chance to provide more detailed and efficient feedback and coaching.
Provide Your Reps with Feedback
Both your employees and you can listen to previous customer records. All details in customer records will be important feedback to you and your representatives.
Because agents can listen to calls again, they realize what they've done right and wrong more quickly and accurately.
In addition, the development of your newly hired agents will occur much faster by listening to previous recordings. Listening to the previous recordings of their co-workers, and knowing what they can or can't do helps them adapt to the job much faster and healthier.
Quickly Bring a Customer Service Agent Up to Speed
As we mentioned in the previous part, there will be periods when you recruit new employees for your company. And there will be some periods when representatives in your company change.
It is important for the company that new employees adapt quickly to the job.
Sharing the VoIP phone records with new employees ensures that the adaptation process is carried out with much faster and smoother. So that new employees are quickly informed about recurring issues and customers' needs.
Resolve Rep-Customer Disputes
In case of any disagreement between the customer and the company, the VoIP call recorder returns the call and ensures that the source of the problem is clearly identified.
It makes it easier for you to decide among many different alternative methods in a problem-detected call recording. And requires seeing more clearly how you should resolve the problem (such as a free upgrade, discount, or cutting ties with the customer).
Comply With Legal Standards
VoIP call recording can help you protect your employees when there is a legal dispute. It is even mandatory in some countries to keep call records. It may make a lot of sense to keep VoIP phone records. So that you don't risk lawsuits for anything one of your representatives says on the phone.
Using a VoIP phone recorder also contributes to the company's compliance with service, industry, and legal compliance guidelines. Audio recording can act as a verbal contract in some cases.
Dealing with jobs such as lawsuits and lawyers is usually very costly. When there is a problem caused by miscommunication and your company is threatened with lawsuits, the VoIP call recorder can be the savior in this regard. Recording conversations might make things easy to resolve without lawyers getting involved.