What is a VoIP Softphone?
Softphones are similar in appearance to the typical telephone keypad but provide much more functionality and features than their landline counterparts. Softphones are directly connected to the chosen business VoIP phone system or UCaaS platform. Thus, they offer a one-click call to anyone, real-time call notifications with automatic customer data from CRM tools, call traffic receiving, call forwarding, and much more.
Softphone VoIP can be downloaded with the interface of virtual phones and can be defined as a device-independent application. They enable outgoing and incoming VoIP phone calls from anywhere. VoIP softphone calls are made over the internet, while landline calls are made over the conventional network. Thus, users can access the softphone system from the device of their choice instead of traditional landline desk phones. Besides voice calls, softphone systems come with many features such as video calling, SMS messaging, team instant messaging, and even virtual fax. And all these functions are accessible from a single unified interface, so workers don't have to constantly switch between applications. A VoIP softphone is a system that offers many ways to communicate, eliminating the need for many businesses to purchase additional hardware.
VoIP softphones can be accessed from both the provider's desktop and mobile apps. Most are macOS and Microsoft Windows operating systems, but they also have solutions for Apple iOS and Android devices. Softphone VoIP can also be accessed directly from web browsers such as Google Chrome, Firefox, and Safari.
If you need an effective business phone system, we recommend that you take a look at the page.
Top 5 softphone VoIP services for Mac
Mac is one of the most familiar operating systems in the world. It holds more than 15.1% of the total market share. However, basic macs may not always be 100% helpful for reaching freelancers, starting a business, or communicating in all the ways you need to.
That's where the softphone for mac thing comes into play. Softphone for mac, a method that many users use for better phone calls, may offer you everything you are looking for in the communication you want.
Now we are going to review the top 5 softphone macOS apps in the world.
Linphone
Linphone is an open-source softphone macOS software based on SIP. That mac softphone service can be used with Linphone's free SIP service as well as existing SIP accounts. One of the biggest advantages of Linphone is its ease of use. Even users without software knowledge can use linphone easily. However, linphone is also suitable and developed for professional users who need SIP based voice and video calling feature.
For the installation process of Linphone, a useful softphone for mac application, it is enough to follow these steps:
Signing up for a Linphone account,
Download Linphone Mac system builder,
Entering my SIP domain credentials (username, password, host)
In addition, Linphone users can also benefit from free features such as;
Contact list synchronization between different platforms along with contact availability
The ability to find people more easily thanks to the search bar
Multi-account and multi-device support
Call features such as call history, HD video calls, call transfers, call pause, call voice recording, auto answer, DTMF support
Echo cancellation
Possibility to make audio conferences with up to 8 participants
Instant messaging. One-on-one and group calls, file sharing, "reply" and "mark as reading" options, etc.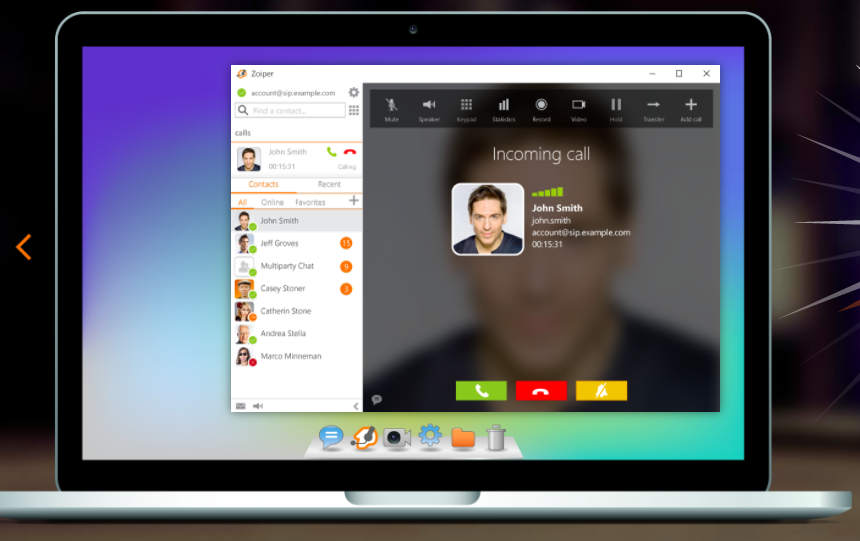 Telephone
The telephone is a softphone macOS program supported by a SIP provider that allows calls to be made via any laptop. It is a big plus that this application, which can be used on any softphone macOS service, is completely free.
While this mac softphone service is free, some paid upgrades are also available. The telephone is a good softphone for mac bria softphone for mac service if you are looking for a one-time project. Telephone, which is an easy-to-use softphone for mac applications, can make your job much easier in this sense.
Bria Softphones
Another app for softphone macOS is Bria and it's still pretty easy to use. To integrate Bria, one of the Mac softphone services, all you need to do is;
Sign up,
Entering SIP domain credentials
Downloading its processor as it is a MAC softphone application
Bria's interface is clean and intuitive. These are the most important reasons for the ease of use. With Bria, one of the most useful applications for softphone macOS, you can add contacts to groups, see recent calls, and create favorites.
However, the Telephone app unfortunately does not offer a secondary phone number that you can use on your mobile device for work.
ZoiPer
ZoiPer provides basic softphone functionality for Mac users. With Zoiper, another useful softphone macOS system, users can make and receive calls from two phone numbers. To use the softphone for MAC software with Zoiper, you don't need to register.
ZoiPer, a multilingual mac softphone app, provides support for over 40 languages. An optional automatic window pops up for incoming calls in Zoiper. Other than that, encryption, noise reduction, and echo cancellation are other features of Zoiper. Zoiper softphone is one of the most advantageous macOS programs in terms of sound.
Along with all this, ZoiPer offers its users important support in terms of communication such as customer support via contact forms, email, phone, community forums, and FAQs.
But it should be noted that ZoiPer does not provide everything. There are no secondary phone numbers. All you have is a Mac softphone and a basic customer support system, so don't sign up ZoiPer if you hoping to get a VoIP phone number.
RingCentral
The last softphone macOS application we will talk about is RingCentral. RingCentral allows you to free sip softphone for mac connect with your teams from anywhere in the world.  In this sense, it is a softphone macOS app that simplifies communication.
It combines calling, messaging, and meeting with employees, customers, and everyone in between. Thus, users can manage communication as they wish with a single call.
Is a softphone the same as VoIP?
All of the softphones for mac we discuss in this article are designed for maximum compatibility with various Voice over IP (VoIP) providers. However, whether the software is compatible with your service may vary. To know about this, you should always confirm with your own VoIP service before making a subscription or payment.
VoIP is compatible with most standard mac softphones, including the ones we just covered.
How do I make a VoIP call on my Mac?
When you want to make or receive phone calls, you can use your Mac without having to reach for your iPhone. When someone calls you, you get a notification on your Mac where you can answer the call. You can also use Real-Time Messages (RTT) for phone calls if your carrier supports it.