What Is a Softphone?
Softphones are similar in appearance to the typical telephone keypad. But softphones provide much more functionality and features than their hard phone counterparts. Because softphones are directly connected to the chosen business VoIP phone system or UCaaS platform. They offer one-click call to the anyone, real-time call notifications with automatic customer data from CRM tools, receiving call traffic, call forwarding and much more.
Softphone voIP can be defined as a downloadable and device-independent application with the interface of virtual phones. They enable outgoing and incoming voIP phone calls from anywhere. voIP softphone calls are made over the internet while regular phone calls are made over the traditional network. So, users can access the softphone system from the device of their choice, rather than traditional landline desk phones.
Besides voice calling, softphone systems come with many features such as video calling, SMS messaging, team instant messaging, and even virtual fax. And all these functions are accessible from a single unified interface, so employees don't have to constantly switch between applications. VoIP softphone offers many ways to communicate, eliminating the need for most businesses to purchase any additional hardware.
The softphones voIP is accessible from both the provider's desktop and mobile apps. Most are macOS and Microsoft Windows operating systems, but also has solutions for Apple iOS and Android devices. Also, softphone voIP can also be accessed directly from web browsers such as Google Chrome, Firefox, and Safari.
If you need an effective business phone system, we recommend you take a look at the page.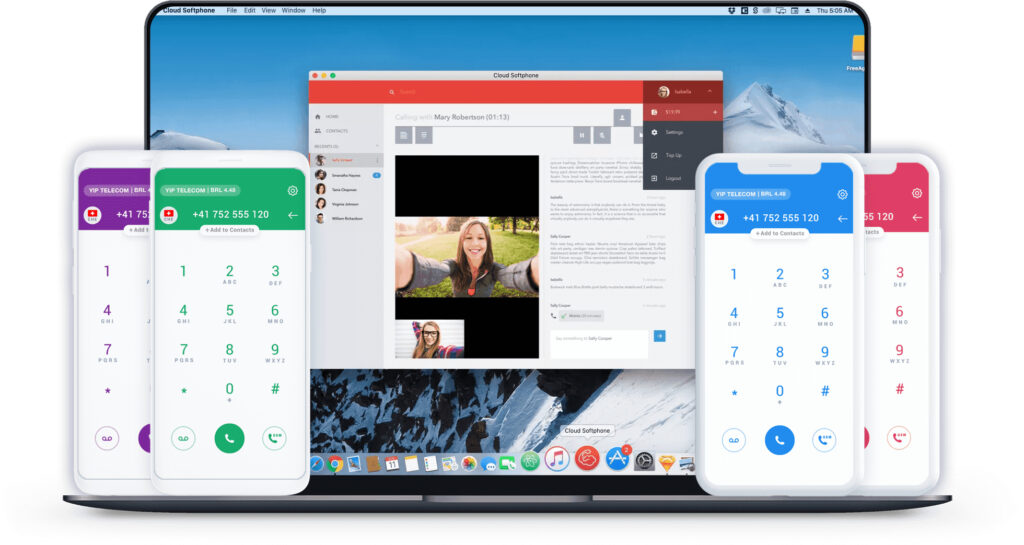 How Does a Softphone System Work?
Softphone systems work with voIP technology, which is a voice protocol over the internet. This requires a wireless or high-speed internet connection, a router, or a modem and any device with microphone, speaker, and internet access. Afterwards, the softphone application of the voIP provider is downloaded to the desired devices and a few simple installation instructions are followed. After these processes, you can easily start making and receiving calls.
However, it's also worth knowing that on voIP softphones, both callers and receivers have at least one codec in common. And they have the same voice over IP protocols. Therefore, they can also be connected to another device.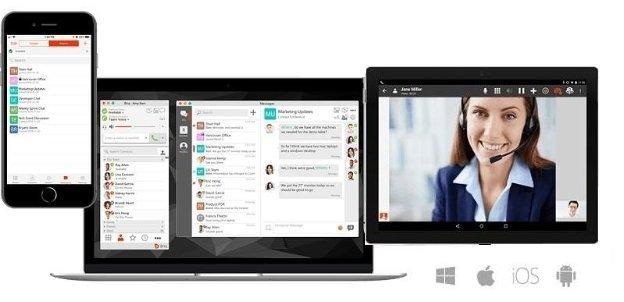 Top Softphone Features
There are some basic voIP features that the best softphones include:
User Presence
The user presence feature built into the softphone voIP is real-time team-wide user status updates to speed up task resolution by improve collaboration.
A few examples of popular statuses are "Online", "Away", "Do Not Disturb", "In Search", "Available", "In a Meeting" etc. can be displayed.
Call Hold and Call Waiting
If agents receive another call during the call, they can see it thanks to the call waiting feature included in the softphone voIP. In this way, important and priority calls are prevented from being missed. If agents receive a call while on a call with someone else, they can see it thanks to the call waiting feature. In this way, important and priority calls are prevented from being missed.
During the call representative can decide to talk to the person on the incoming call. By this way, his/her current call can be put on hold. If the caller does not want to be kept on hold for too long, additional features can be considered. Such as automatic customer callback or call queueing.
Instant Chat Messaging
With softphone voIP, instant team chat messaging tools enable real-time communication and collaboration for minimal issues that can be answered quickly without the need for email.
Many of the team chat messaging tools also provide features such as file sharing, whiteboard, user tagging-mentioning, and real-time push notification.
With voIP softphone, users can instantly switch from chat message to audio and video call with a single click for larger-scale discussions and conversations.
Finally, not all voIP softphones offer local team chat messaging capabilities and users may have to integrate third-party solutions.
Audio Conferencing and Call Bridge
The audio-conferencing feature allows voIP softphone users to make conference calls without the hassle of syncing multiple desk phones at the same time. In this way, attendees can attend these sessions from anywhere, even if they are away from their office space. At the same time 10-40 users can easily participate in the conference via a link or phone number.
Video Calling and Screen Sharing
With this feature, external and internal softphone voIP users can always video call from anywhere in the world. Many features such as whiteboard, screen sharing, in-meeting chat can be used to improve cooperation.
While video conferencing is not always a native softphone voIP feature, third-party integrations with some video calling tools such as Microsoft Teams, Zoom are common.
Call Recording and Transcription
With voIP softphone, administrators can manually record their voice calls if they wish. These recordings, which can be used for video conferences with its screen recording feature, can also be shared with other users later.
Call transcripts of recorded conferences can be shared, searched, and used for a quick summary of the meeting.
The point to be noted here is that the call recording laws in the country should be examined and acted upon to avoid legal problems.
Remote Call Forwarding
With the call forwarding feature, incoming calls are automatically forwarded to more than one phone number when the first number is not answered. Thereby increasing the flexibility of the softphone voIP system.
Visual Voice Mail
With this feature in voIP softphone, voice mail messages are copied, and voice messages can be displayed as text on the phone interface. Thus, eliminating the need to manually listen to voicemails. Visual voice messages can be e-mailed to a representative, which saves time by prioritizing certain calls.
Caller ID
Thanks to the Caller ID in softphone system, the name and number of the person calling at that time is displayed. So, it is ensured that the agents consider their priority calls and avoid spam calls.
Call Routing
With this feature, calls can be forwarded to ideal agents according to pre-defined criteria. Call routing in softphone voIP allows callers to connect with an agent that will enable them to get what they need faster and easier. Thus, the waiting time is shortened.
Some popular call forwarding methods used through the voIP softphone system:
Round Robin Routing
Relationship-Based Routing
Time-Based Routing
List-Based Routing
Skills-Based Routing
Ring Groups and Call Blasting
Call groups are agents or departments with similar skills to ensure that incoming calls are answered as quickly as possible. When administrators assign ring groups, the whole group's phone rings at the same time in case of an incoming call. And the call is handled by the person who answers the call first.
CRM Integration
With CRM integrations, all important customer data and CRM information are accessed from a unified interface. For this, the preferred CRM software connects to the softphone voIP application and the caller's data is automatically opened in the voIP softphone interface.
Contact List Sharing and One-Click Calling
With contact list sharing, it's easy to access internal contact information, add new contacts, and update them. Team members can easily do this and share their contact lists with each other to receive these updates automatically. Clicking on the name of the person to be reached is sufficient to send a call to the person you want to be reached.
Call Monitoring
Thanks to the call monitoring feature, managers-admins can listen to these calls during the call and even take over the call if they wish. Even if the agent wants to get help, with this feature, advice can be obtained without the caller hearing it.
Automated Outbound Dialing Modes
Some softphone voIP systems, especially those that depend on call center software, may provide automatic outgoing dialers. This system prevents agents from wasting time between outgoing calls and speeds up listing. Popular outgoing beat modes include powerful, progressive, and predictive dialers.
Auto-Attendant and IVR
IVR is interactive voice response in softphone voIP technology. When the business phone receives an incoming call, the caller is directed to the appropriate representative based on their answers to pre-recorded automated questions.
Callers answer these pre-recorded questions via the touch keypad or by speaking.
Call Transfer
This feature makes it possible for agents to transfer calls to each other. In this way, customers are prevented from waiting on the line for a long time.
If desired, the agent to whom the call is transferred can hear data and information of the caller.